​Life-saving Bahamas. How to withdraw money from the FTX exchange
Desperate traders with stuck assets resort to semi-legal schemes to save deposits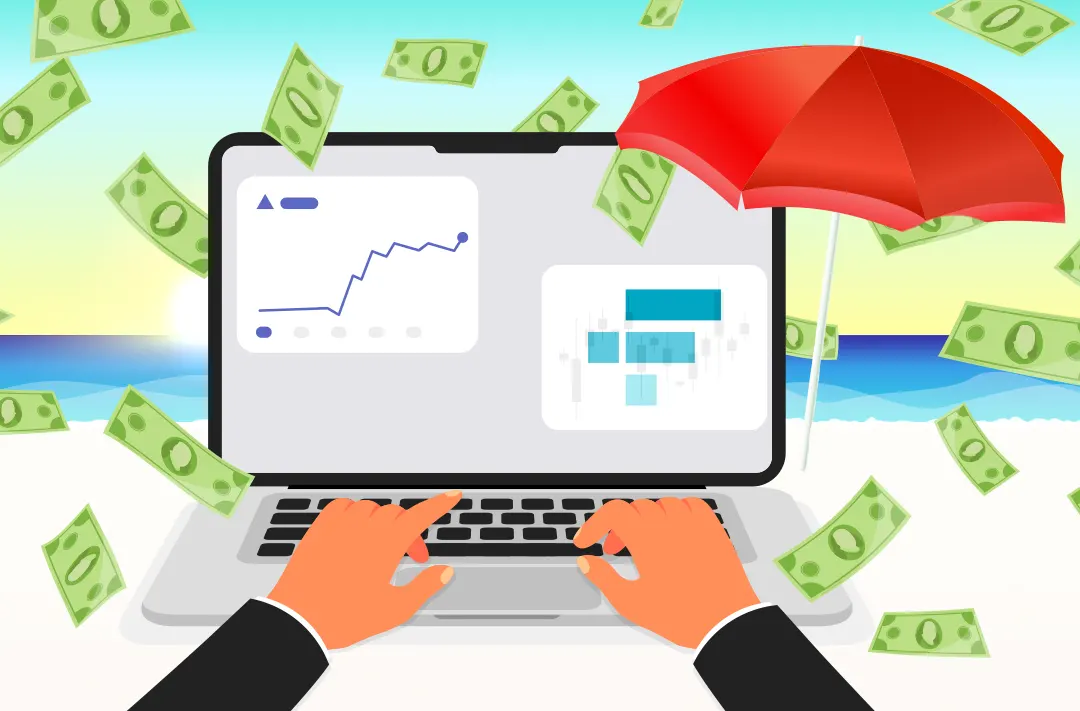 This article is for informational purposes only and is not a call to action.
Part of the assets of FTX Digital Markets, a subsidiary of the Bahamas-based FTX exchange, have been frozen by local regulators, according to a press release. FTX moved its headquarters to the Bahamas from Hong Kong in September 2021. Following the liquidity crisis and likely bankruptcy of the exchange, the Bahamas Securities Commission issued a statement saying that it was aware of evidence that FTX had improperly disposed of, managed, or transferred customer assets to Alameda Research.
Despite what is happening, withdrawals for accounts registered to Bahamians remain available, which has become a hot topic of discussion in the community. Uninvolved observers track every transaction leaving the exchange and even create bots to monitor successful withdrawal requests from accounts.
Information about the possibility of withdrawing funds through Bahamian accounts quickly spread through social networks and thematic channels on Telegram and Discord. So, literally in a day, a shadow market of services for the withdrawal of stuck deposits was formed. The services of "assistants," judging by the data on the blockchain, began to be actively used by those who no longer believe that FTX or some of its successors will ever return assets. These forces affected traders to take semi-legal risky schemes, giving a significant percentage to those who have access to accounts with verified Bahamian citizenship.
https://twitter.com/austerity_sucks/status/1590881316845015040
The loophole became known when offers to buy FTX accounts with a balance began to appear on Twitter and Telegram. Buyers were offering 10 cents for every dollar on deposit. At first, it seemed that by buying such an account, its new owner simply expects that sooner or later the exchange can return the funds, and then he will make a considerable profit.
However, later evidence surfaced that accounts bought for 10% of the available balance then undergo the KYC procedure through fake Bahamian citizens, or through outright fake documents. If successfully verified, the funds are withdrawn and the account buyer receives a tenfold income or takes a fee (reportedly up to 70%) for "assistance" in withdrawing funds if the real owner of the FTX account deliberately applied to him for a "service".
Later, even more, sophisticated schemes became known. Renowned crypto influencer and UpOnly podcast host Jordan Fish (Cobie) drew attention to abnormal activity on one Ethereum address and another on BNB Chain. Millions of dollars in USDT stablecoins were being withdrawn to the address from FTX and then transferred to another undefined address. It quickly became clear that this was also evidence of withdrawals through Bahamian accounts.
FTX has its own NFT marketplace. The owner of the Bahamian account was issuing an NFT, setting a price equal to the amount of the FTX account holder's deposit with the stuck money, the other was "buying" this NFT because he could not transfer funds within the exchange, according to its rules. The owner of the Bahamian account then was withdrawing the received money and transferred it to the wallet of the one, whose money was stuck on the exchange, leaving a fee.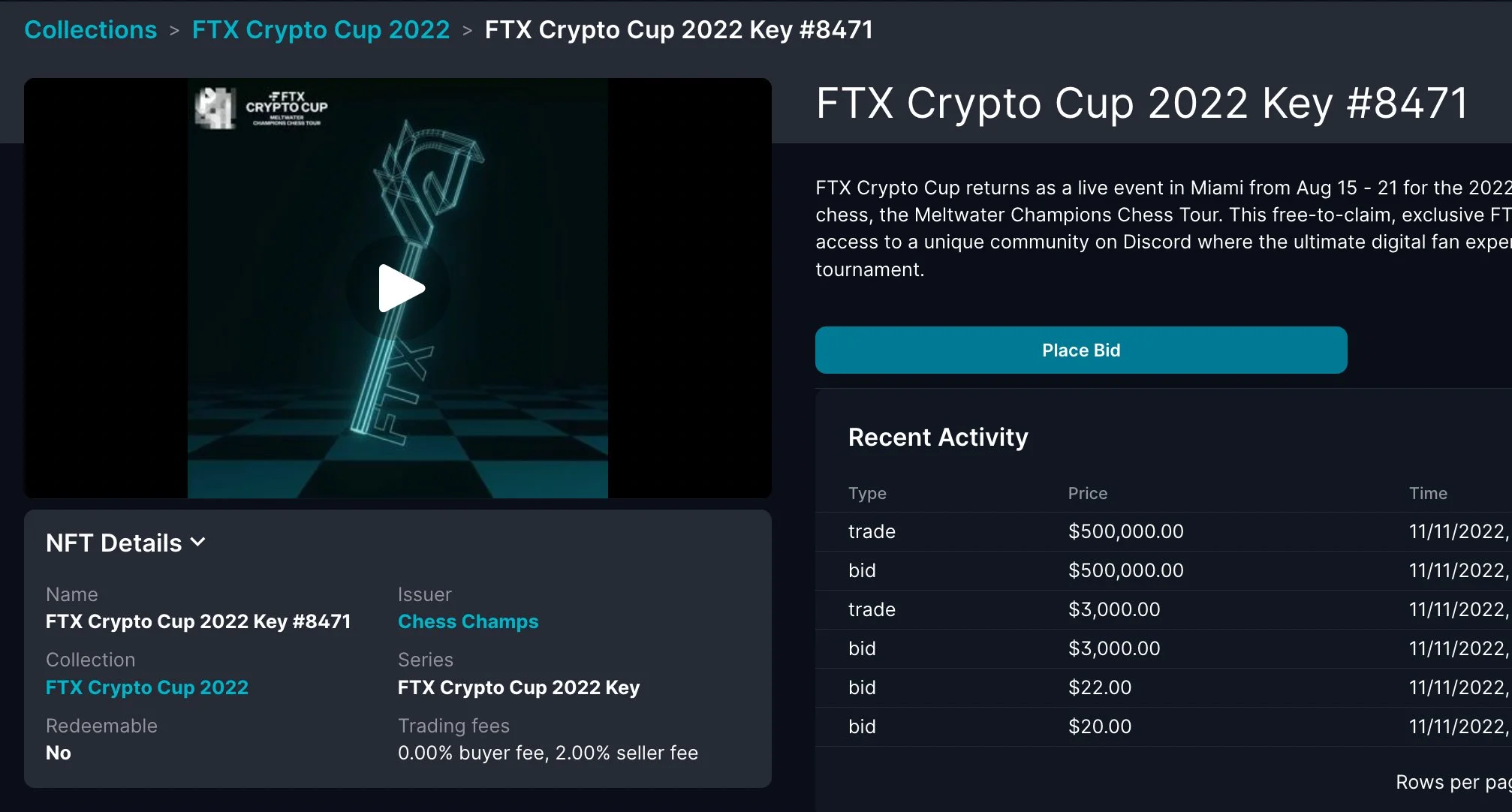 NFT on the FTX marketplace worth $500 000, issued on November 11
Such a loophole was quickly spotted, and at the time of publication, the issue of NFTs on the FTX marketplace is closed, but in just a few hours in this way managed to withdraw more than $50 million. "This appears to be the first recorded case of NFT utility in existence," Fish sneers, commenting on what is happening. In the same series of tweets, he provided a link to another NFT used in the scheme.
What is happening is being actively criticized by commentators, especially those who have money suck on FTX, and are waiting for the official outcome of events. Those involved in the schemes are accused of trying to embezzle funds from the general pool of what could eventually be paid to those affected by the collapse of the exchange. "Just a heads up if you're doing this, or thinking of doing this you're committing financial crimes," a well-known trader nicknamed ThinkingUSD wrote on Twitter. According to him, he himself was approached by law enforcement agencies about transactions on the BitMEX exchange that took place in 2017. "They're watching and noting everything right now," he added.
More reports are surfacing that privileges to Bahamian accounts are linked to local government loyalty to FTX. According to reports surfacing on social media and leaked to the media by the exchange's employees, Sam Bankman-Fried lives in a local $30 million penthouse and owns $200 million worth of land and real estate in the Bahamas. FTX and Alameda Research have offices there, as well as co-working spaces that once housed some developers of Solana and other crypto projects.