Real estate in the metaverse. Is it possible to make money on virtual lands?
What is the state of the market of virtual lands, and is it profitable to invest in it?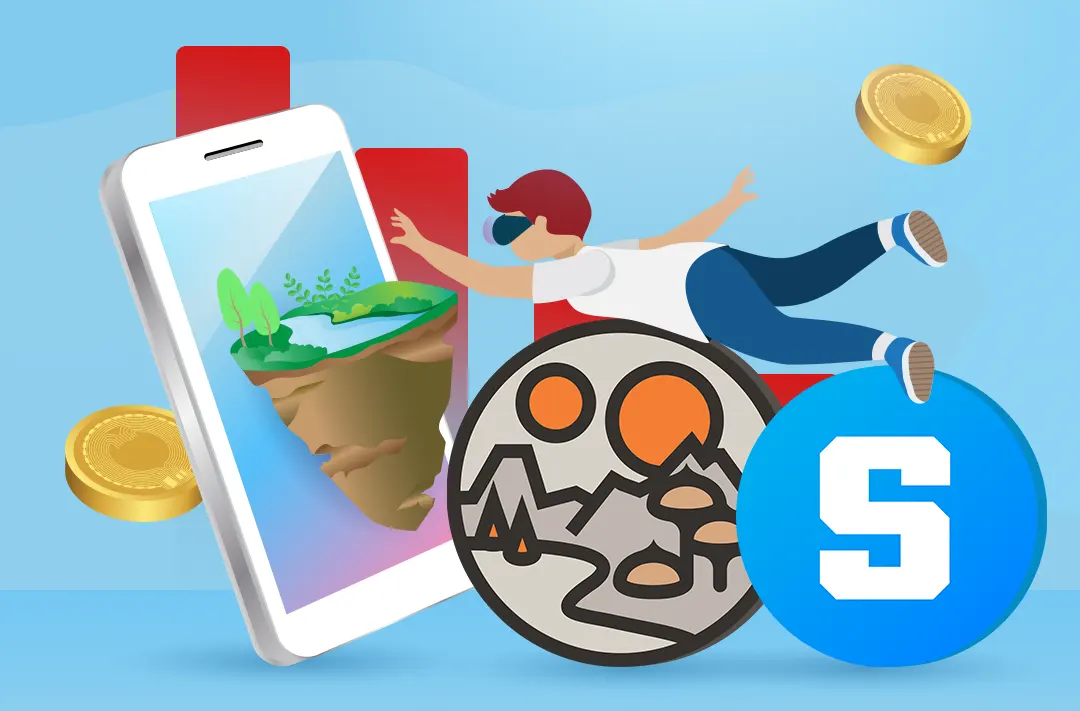 The virtual real estate industry in metaverses shows impressive financial records even at the initial stage of development. In 2021, sales in this market exceeded $500 million, according to the calculations of MetaMetric Solutions analysts, who predict the growth to 1 billion by the end of 2022. Despite the quite real investment opportunities, technically the first blockchain-using metaverses are still in the very early stages of development and are far from being recognized by the masses who are not interested in the crypto industry.
The rise of cryptocurrencies and celebrity participation in promotional campaigns created a stir around The Sandbox or Decentraland projects, creating a niche market for virtual goods and demand for land in digital worlds. Nevertheless, for 2022, the average price of real estate in both metaverses sagged noticeably, leaving some buyers of virtual land at a loss.
Virtual real estate is the digital analogs of real estate objects in metaverses: houses, plots, land, stores, exhibition centers, etc. Ownership rights of such a digital object and all transactions are usually registered in a blockchain. Buying virtual real estate is the purchase of non-fungible tokens (NFTs). To do so, the user needs a digital cryptocurrency wallet and an account in the selected metaverse. Once the transaction is completed, the token (or real estate ownership) appears in the wallet. Just as with cryptocurrency or NFTs, this token can be stored, transferred, or sold to other users.
Virtual real estate objects in a blockchain are traded in four major metaverses: Decentraland, Sandbox, Somnium, and Cryptovoxels. The leader, The Sandbox, accounts for 62% of available land and three-quarters of all sales made in 2022, according to the Republic Realm report. The total capitalization of metaverse projects is $14,326 billion as of August 19 (according to CoinMarketCap).
The economies of each of the represented metaverses are based on internal tokens, which are used to make transactions in virtual worlds. One of the largest tokens by capitalization is Decentraland's MANA — $1,81 billion and No. 36 in the CoinMarketCap ranking. As of August 19, its value is $0,8532. MANA can be used to pay for virtual parcels of land and other items in the Decentraland metaverse, as well as goods and services in the real world.
The SAND token from The Sandbox metaverse ranks 37th with a price of $1,07 and a capitalization of $1,71 billion. SAND is the main currency of the metaverse and is used to buy and sell NFTs, as well as to participate in the management of the metaverse.
Large funds invest in companies that create metaverses. In particular, investors in The Sandbox project include Animoca Brands and SoftBank's Vision Fund 2. And the asset management company Grayscale Investments has launched a separate Grayscale Decentraland Trust to invest in MANA.
Among the biggest deals in this area is the purchase of a piece of virtual land in Decentaland in June 2021 for $913 000. The buyers built a virtual clothing mall on the selected site. And in November, Tokens.com purchased 116 plots in the Decentraland metaverse for $2,4 million.
In a record deal, investment firm Curzio Research bought 19 commercial real estate sites in the TCG World metaverse for $5 million in May 2022. The virtual space is planned as a meeting place for the company's VIP members, as well as for various events. As Frank Curzio, founder of the publishing company stated, the metaverse is what the Internet was meant to be. A decentralized and restriction-free place where people have the freedom to create and own content.
Market decline
The 2021 market boom sparked a wave of interest in virtual spaces, and site prices peaked in early 2022. However, the beginning of a bearish period and the slow development of metaverses led to an 85% drop in prices in 2022. Buying volumes also dropped significantly.
While in 2021 a buyer nicknamed P-Ape paid $450 000 for a plot of land next door to Snoop Dogg, and another user paid about $60 000 for a 16-by-16-meter plot slightly down in the virtual neighborhood, P-Ape is now unlikely to fetch even $25 000 for his property.
The average price of a plot of land in the largest Ethereum blockchain-based metaverses fell from $21 000 in January 2021 to $2 500 by 2022. In The Sandbox metaverse, the drop was even greater, from $35 500 to $2 800. In August 2022, weekly real estate purchases dropped to $650 000. By comparison, that figure was $62,5 million in mid-November 2021.
"If you remember the curve of The Gartner, after a boom, there is always a period of decline and then — slow but steady development," explains co-founder of ENCRY Foundation Roman Nekrasov, projecting this idea on the news around the metaverses. According to the expert, the excitement surrounding virtual stores and showrooms has already exhausted itself, and many famous brands have already announced their purchase and appearance in metaverses.
Now it's not enough: to make everything work, you need to attract some liquidity from ordinary users to the metaverse, and so far this process is in its infancy, Nekrasov believes. Few people spend time in the metaverse, go shopping in stores or participate in concerts, as far as mass users are concerned, who so far read about metaverses only in mass media.
Even one of the most high-profile metaverse projects from the company Meta (recognized as an extremist organization and banned in the Russian Federation) was mocked online. The social networks criticized Mark Zuckerberg's virtual selfie taken in the metaverse that his company is working on.
This selfie cost Mark Zuckerberg $10,000,000,000. Stay in school, kids.#Metaverse pic.twitter.com/4aftFgKLi6— Ben Wolf (@chainsawmcd) August 17, 2022
People felt that the primitive-looking graphics highlighted the company's failure to create a futuristic metaverse, especially given the fact that $10 billion was spent on the project, which does not compare to the investment in Decentraland or The Sandbox.
One of the recent high-profile critics of virtual real estate investment has been billionaire Mark Cuban. "It's the dumbest idea ever," Cuban said in an interview with the YouTube channel Altcoin Daily. He explained that real estate in the real world is a scarce resource, but the digital space implies an unlimited amount of land on which you can create virtual buildings.
Notably, the billionaire is an investor in Yuga Labs, the company that owns the popular NFT collection Bored Ape Yacht Club, which was also actively selling land as part of the launch of its Otherside metaverse. Yuga Labs raised about $320 million through the sale of Otherdeed tokens that give ownership of land in the BAYC metaverse.
Virtual real estate as an investment
Most corporate real estate owners purchased plots for marketing purposes, expecting to place experimental advertising there or virtual store windows along the most crowded streets in meta-cities. At the peak of the hype, companies were paying hundreds of thousands of dollars for this, but as the economic outlook for cryptocurrencies deteriorated, it became harder to justify spending this money on virtual worlds.
Is it possible to profit from virtual real estate? Nekrasov believes that such spaces can be monetized in the same way as real ones. For example, to rent it out, to place advertising, to hold events. But not only that. Metaverses are very much tied to consumers and users, and therefore they encourage them to interact with each other and stay within the metaverses as long as possible. For example, Decentraland has games where the user can work in a virtual casino and get paid a very real salary.
Answering the question about how buying, renting, or subleasing virtual land can be beneficial for investors, the expert stressed that the virtual land market is not the best asset for investment at the moment. Its peak has already passed, and its further fate is now unclear. Virtual worlds will develop, this is obvious. But when that happens is still unclear. "It would be good to already have a piece of virtual land bought a couple of years ago," the expert sums up.