How to earn on affiliate programs of crypto exchanges
Review of the most profitable offers from proven trading platforms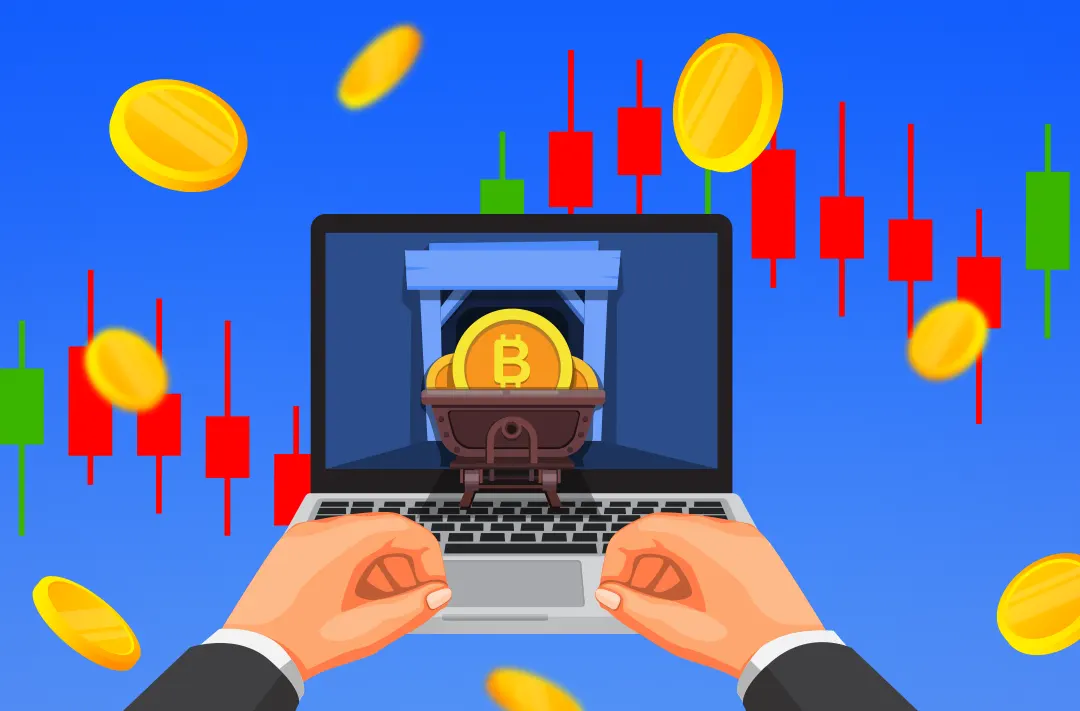 For cryptocurrency services, affiliate marketing is an effective way to attract new customers. Exchanges, wallets, or investment projects often use the model of rewarding users who bring new participants. Reaching the right audience can provide a worthy passive income at zero financial costs.
In affiliate or referral programs, users receive a unique link from the crypto project, which they use to invite their friends (and those of their friends). An affiliate program helps both the project and participating users keep track of how many new customers came from a particular participant. Referral rewards can take the form of discounts on trading services, exchange tokens, or profit sharing from the trading commissions of an invited participant.
Getting started with affiliate programs is easy. In the personal account of the exchange, a unique link is generated, which should be shared with the interested audience in any available means – in messages, comments, blog articles, or descriptions of thematic videos.
Some exchanges do not limit the duration of the affiliate program, which means that you can count on the income from the attracted users for months, and sometimes years. The niche is constantly growing throughout the existence of the crypto market. The growth of cryptocurrency rates and new earning opportunities are constantly attracting an audience open to signing up for exchanges and other projects.
To get the best conditions from referral programs, it is worth choosing proven and reliable platforms for partnership with the most profitable offers.
Bybit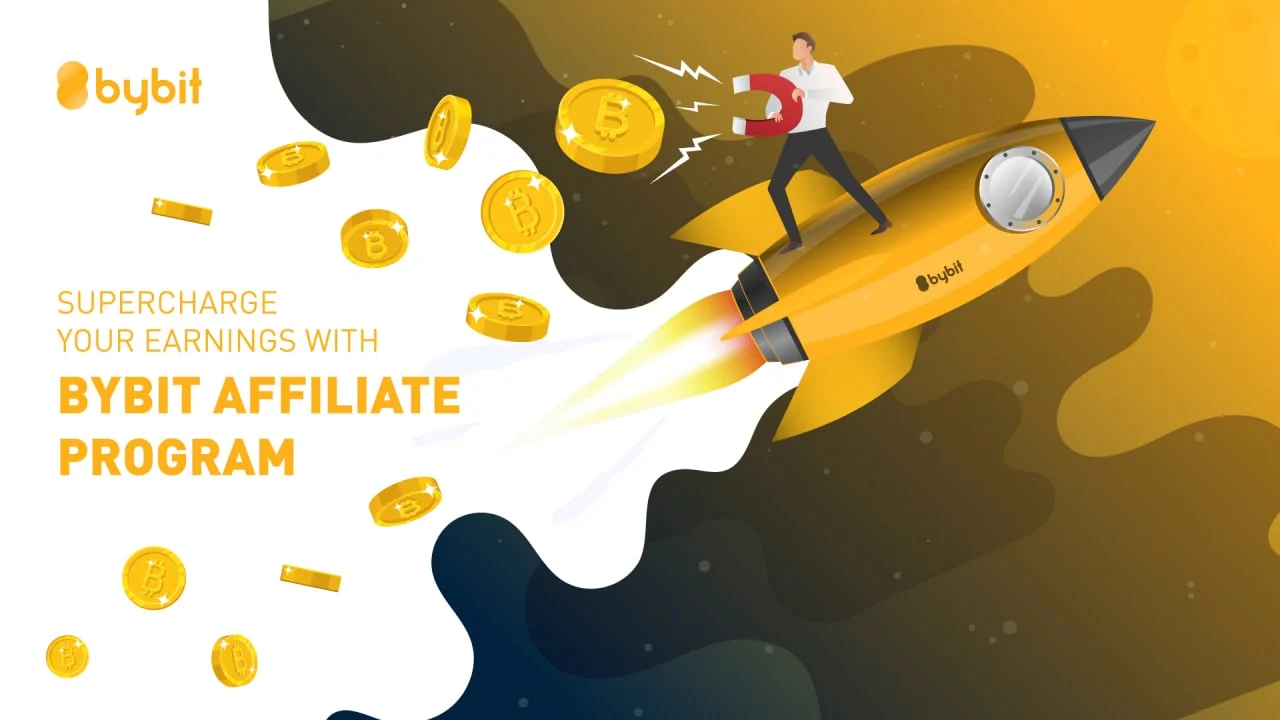 Bybit is a cryptocurrency exchange with more than 1,6 million users, launched in March 2018. The platform focuses on derivative trading and is among the top 10 in terms of trading volume, according to CoinMarketCap. Bybit's referral program has more than 11 000 partners, who, according to the exchange, have received a total of more than 5 600 BTC in commissions.
Bybit's affiliate program provides members with a lifetime income of up to 30% on referral trading commissions. The amount of commissions is calculated in real time for users who are registered through an affiliate link and are actively trading on Bybit. Commissions are processed and paid daily. In addition, the exchange allows you to get $20 for every referred user who deposits from $20 and whose trading volume exceeds $250. Bybit promises up to $420 in rewards per referral if they achieve higher trading volumes.
The program participants get support from a dedicated manager from the exchange as a privilege. To participate, it is necessary to register and fill in the application form on the website.
Huobi

Huobi Global is a Chinese cryptocurrency exchange founded in 2013. According to CoinMarketCap, it ranks 9th in the rating of crypto exchanges.
Huobi offers an affiliate program for a period of 2 years and a yield of up to 60% from the trading commissions of each referral, depending on its trading volume. All participants are initially offered 30% of referral commissions, and to get a higher percentage you will need to reach a certain number of invited users and their total trading volume for the month.
The exchange offers separate affiliate programs for spot and futures trading, with the second offering a higher percentage. Commissions are accrued every day in USDT and Huobi (HT) tokens from the moment a referral is registered until the affiliate program expires. Huobi allows you to share commissions with your referrals in the form of discounts on trading commissions. To participate in the program, you need to register on the exchange and generate a link in your personal account. For special conditions regarding profitability, you need to fill out a form
Kucoin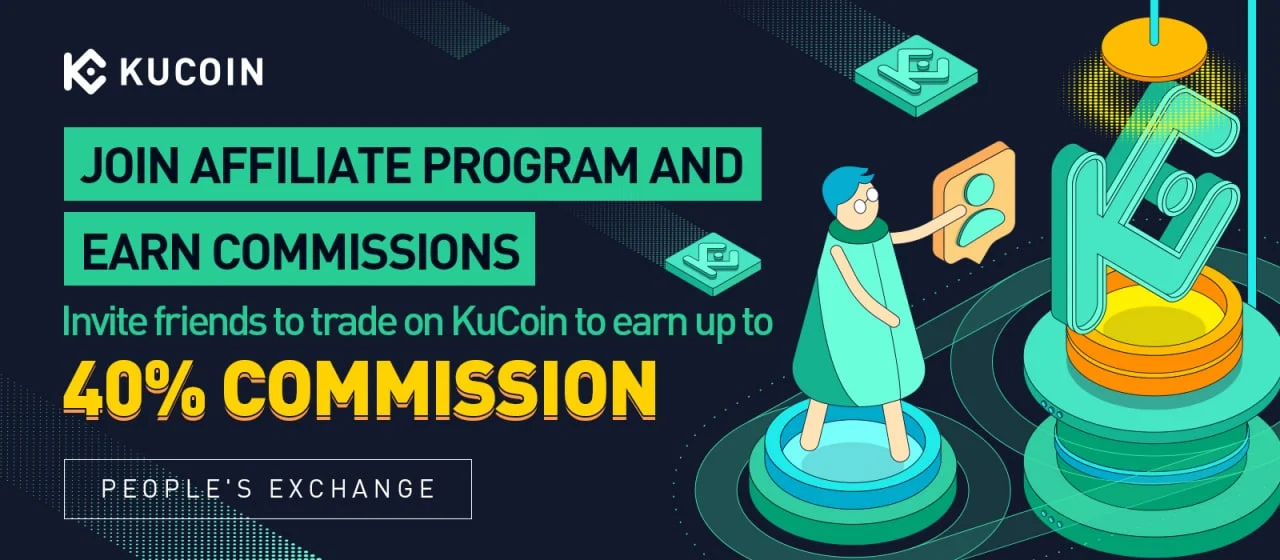 Kucoin is a cryptocurrency exchange with 18 million active users, registered in May 2017. According to CoinMarketCap, it ranks 7th in popularity.
To participate in the referral program, you need to register and create a unique link. For each referral brought in, the user receives special points, which can be exchanged for rewards. Kucoin also offers earnings of up to 40% from commissions from referrals with no expiration date, but the offer is only available to approved partners with their own audience, such as a website owner or a blog with high traffic. It is specified that a user cannot join an affiliate program and KuCoin referral program at the same time. To participate in the affiliate program, you need to fill out a form on the website.
Referral programs have already proven to be effective for both cryptocurrency services and their users, but it's worth paying special attention to the choice of service offering partnership. There are no financial risks, but the efforts made will not pay off if the service does not pay the promised reward. It is worth choosing reliable and well-established projects that regularly pay out money to users. Little-known projects with too tempting conditions may turn out to be fraudulent and fail to pay the promised funds.