Elon Musk bought Twitter. How this will affect the crypto market
How cryptocurrencies will be implemented in the social network, whether there will be new meme coins, and what will happen with Dogecoin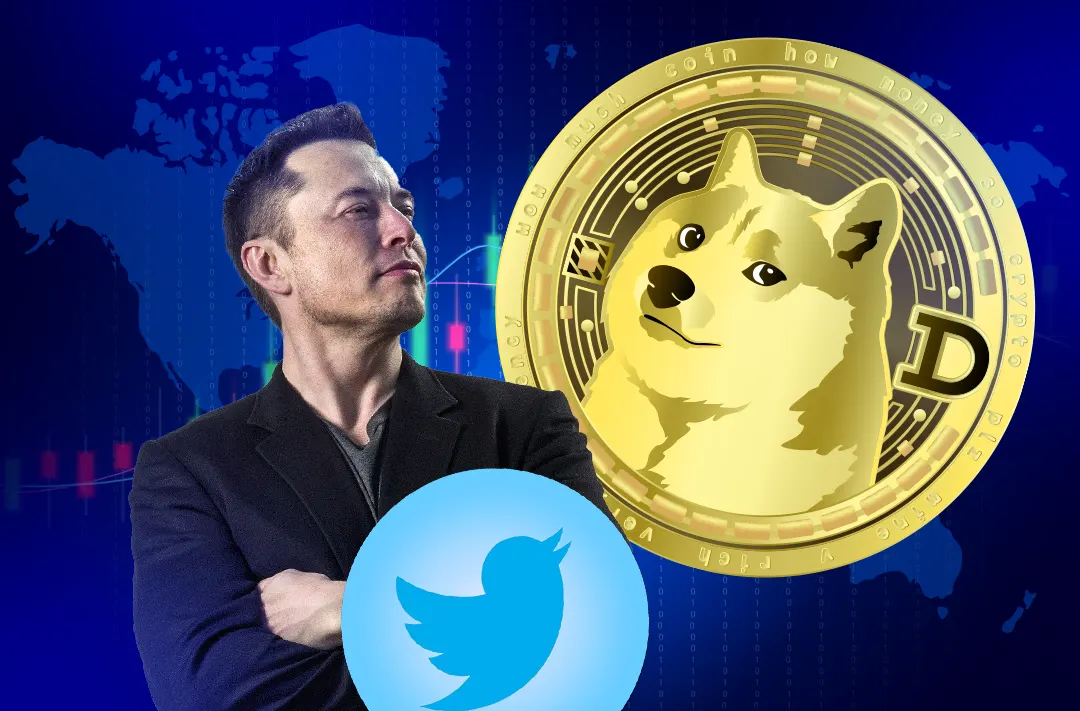 Elon Musk is the new owner of the social network Twitter. Participants of the cryptocurrency community expect him to take action on the introduction of cryptocurrencies to the masses and assess which trends of the crypto market will be set by the head of Tesla. Changes are already taking effect, and analysts are predicting the growth and spread of digital assets.
With the final closing of the $44 billion deal, Musk personally replaced the head of the company, Parag Agrawal, who, along with a group of other executives, was fired from the top management of the social network with a generous compensation bonus. In his position as CEO, Musk has already announced new reforms, including a ban on lifetime account blocking and a new policy on working with advertisers.
On the same day, Binance CEO Changpeng Zhao confirmed that his exchange had invested $500 million in a deal to buy Twitter. "We're excited to be able to help Elon realize a new vision for Twitter. We aim to play a role in bringing social media and Web3 together in order to broaden the use and adoption of crypto and blockchain technology." Zhao wrote in a statement. According to Reuters' sources, Binance is already building a team to develop blockchain solutions for the social network.
Musk's Tesla is openly investing in bitcoin, and according to a Q3 report, the company did not sell a single coin between July and September. Shortly before the deal, there were rumors about the integration of a cryptocurrency wallet into Twitter, and on October 28, the company officially announced the launch of the feature of buying and selling non-fungible tokens (NFTs) through the internal interface in partnership with marketplaces Rarible, Magic Eden, Dapper Labs, and Jump.trade.
Community
Since the birth of the crypto market, Twitter has been the main focus of the blockchain community. The social network acts as a mouthpiece for projects, their leaders, analysts, traders, influencers, critics, and thousands of crypto-world enthusiasts. Elon Musk has been very vocal about digital currencies, most often about Dogecoin. His tweets and interviews directly influenced the market and set trends for the emergence of new coins, whose developers and promoters used his name or phrases for branding in any way they could.
Judging by the trends in crypto marketing in the last 5 years, Twitter has established itself as a monopolist in targeting cryptocurrency users, notes Vitaliy Kucherov, co-founder and marketing director of V3 Games. "The platform has become the main venue for all kinds of discussions on cryptocurrencies, from NFTs and meme coins to serious phenomena in decentralized finance (DeFi) and in-depth blockchain analytics. Twitter is where most of the active audience that expected the head of Tesla to buy the platform is concentrated," the expert comments.
"Elon is a very smart guy who sometimes lets his feelings and courage run wild," notes Berezka DAO co-founder Roman Kaufman, adding that, judging by the attention Musk pays to digital assets, he has a very positive view of the future of cryptocurrencies. Another one of the largest social networks with a positive attitude towards cryptocurrencies will give much more to their adoption by the masses than hundreds or even thousands of evangelists, Kaufman believes.
New meme coins
When Musk posted a video on Twitter showing him walking into the company's office with a sink in his hand, ironically referring to the play on words in the phrase "let that sink in," a popular response to the post was a question from one user as to whether to expect a SINK token to appear. Following a similar scenario, THE token appeared earlier after a humorous tweet by Vitalik Buterin, whose exchange rate skyrocketed by thousands of percent and spawned a wave of new meme coins.
Former MicroStrategy head Michael Saylor, Euro Pacific Capital owner Peter Schiff, and many crypto tweeters, recognizable by hashtags or images from popular NFT collections on their avatars, were noted in comments to the very same tweet by Musk. The response from the official account of the cryptocurrency FLOKI, named after Musk's dog and added to the range of meme coins on the surge of DOGE, collected about a thousand likes.
The trend for new meme coins will definitely try to revive with a new round of the hype cycle or growth of cryptocurrencies, believes Kucherov. In particular, there will be attempts to bring back existing meme coins to the growth leaders, which can bring superprofits to investors. "On the wave of the "resurrection" of old meme coins, we should certainly expect new names to appear in this field. I'm betting on solid Musk's favorites and meme tokens traded on major cryptocurrency exchanges," shares a V3 Games representative.
At the same time, according to Kucherov, there are doubts about whether such a frenzy can revive and increase the flow of new holders in meme projects in the conditions of crypto winter. However, as long as cryptocurrencies continue to attract new users, there will remain a stratum of those who pursue easy profits and spend money on low-quality projects and coins voluntarily on emotion, the expert believes.
What will happen to Dogecoin
Despite Dogecoin's obviously parodic origin, the coin has taken a notable share of the crypto market largely due to the support of Musk, who called himself Dogefather. The news of the Twitter deal closing led to DOGE's growth of more than 20% in just 24 hours. During the meme coin rush in 2021, DOGE soared in popularity, with the coin hitting an all-time high (ATH) of $0,73. Having collapsed along with the entire crypto market, the cryptocurrency price has not exceeded $0,09 since May of this year, with every mention of Musk resulting in a sharp but short-lived rise in its exchange rate.
In January, the head of Tesla announced that the company would begin accepting DOGE to pay for branded goods at an online store. That led to an immediate 14% rise in the coin's price. Musk later wrote that he wanted to integrate payment in DOGE into the paid services of Twitter and the official store of his company SpaceX, and also posted memes with the coin, the publication of which also influenced its price.
According to BitInfoCharts, Dogecoin's hashrate and the number of long-term holders of the cryptocurrency are at their highest values at the time of Musk's Twitter acquisition. "I won't be surprised if Musk introduces Dogecoin as a native token to pay for additional services on Twitter. In the event of such a development, the rate of the coin itself could go up significantly," Kaufman predicts.
DOGE is a truly decentralized cryptocurrency based on the PoW algorithm. Ideologically, it is supported not only by speculators but also by many bitcoin enthusiasts and early adopters of cryptocurrencies, Kucherov reminds. In his opinion, we can expect its active marketing support and the addition of DOGE utility features to Twitter. "These prerequisites can multiply Dogecoin's capitalization and help the coin conquer the top of CoinMarketCap, where it has already repeatedly hit after Musk's statements," notes V3 Games co-founder.
News stories about Dogecoin are generated by the ongoing interest of Elon Musk, agrees Sergey Khitrov, head of the Listing.Help service. According to DOGE developers, their collaboration with the head of Tesla began back in 2019. Jared Birchall, head of Neuralink, another of Elon Musk's companies, sits on the Dogecoin Foundation.
"Elon Musk's interests have been seriously and for quite some time intertwined with the development and popularization of Dogecoin. Given the growing popularity of blockchain-based publishing platforms (such as Mirror, Paragraph, or Lens), we expect Twitter to develop areas that facilitate the introduction of DOGE into the company's services," Khitrov refers to the words of Listing.Help analysts. In his opinion, the appearance on the market of a project that uses cryptocurrencies for an audience of 400 million people will be an important milestone in the process of their popularization and adoption by society.