​Waves founder explained the decline in the rate of the USDN stablecoin
Alexander Ivanov has accused Alameda Research of manipulating the price of his project's token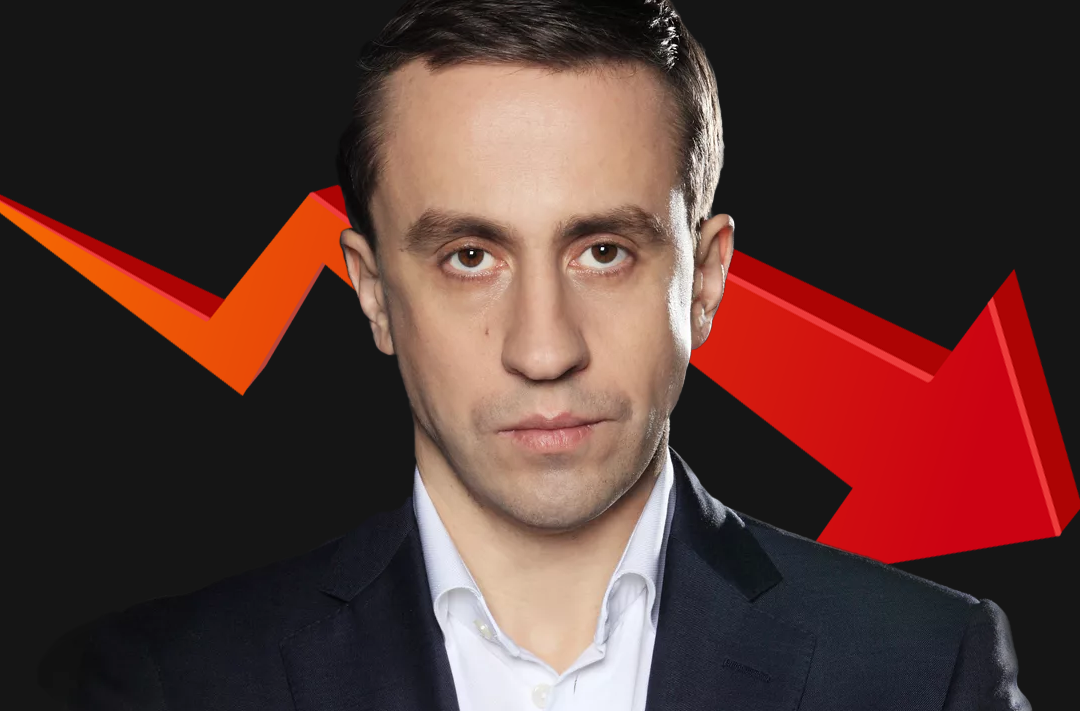 05.04.2022 - 11:15
56
3 min
0
What's new? Alexander Ivanov, the founder of blockchain network Waves Platform, explained on his Twitter why the USDN stablecoin rate began to fall on April 3. He accused the trading company Alameda Research of manipulating the price of the WAVES token for profit. According to him, people close to the project organized so-called FUD campaigns to sow panic in the community and provoke sales of the token.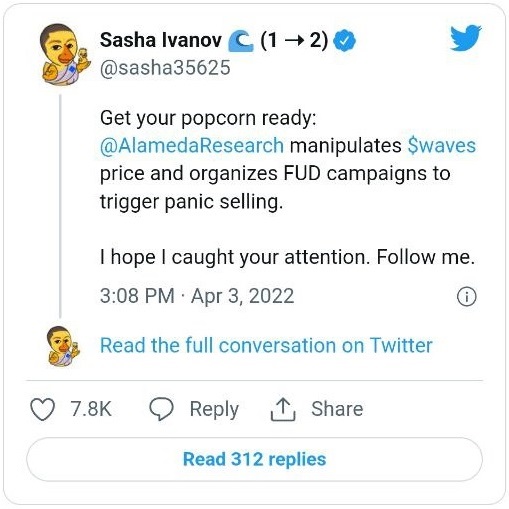 How did events develop? A Twitter user nicknamed 0xHamz stated that borrowing in USDC/USDT was used to stimulate the growth of WAVES. This in turn was necessary for the issuance of the USDN stablecoin, which acts as collateral in the protocol. 0xHamz argued that if the price of WAVES fell, the network's stablecoin would lose its peg to the dollar and the project ecosystem would collapse completely.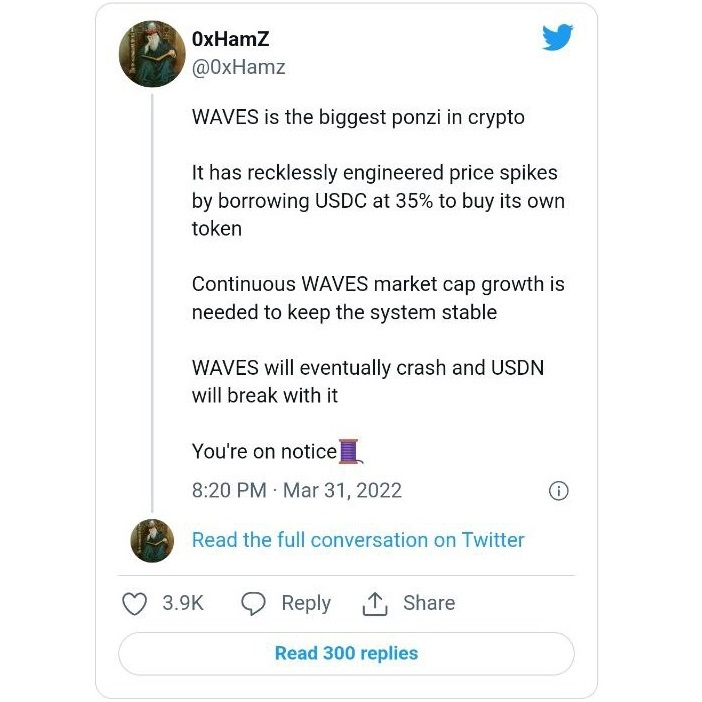 Ivanov believes that these statements triggered sales of the token and the subsequent price drop. He later discovered that in the same time frame, an address linked to Alameda Research borrowed more than 631 478 WAVES through Vires.Finance. And from March 20, the address has been sending these tokens to Binance for resale and dump formation.
During an interview for Bloomberg, the Waves founder also learned that the exchange wallet of the FTX platform, which is owned by Alameda Research, was replenished with wrapped tokens of his project. And the exchange had previously refused to list WAVES tokens and requested $1,5 million for the listing.
According to Ivanov, one of Alameda Research's shorts was extremely unsuccessful due to the growth of the asset and for a "safe exit," they decided to implement the scheme described by 0xHamz. This caused a collapse of the WAVES exchange rate and subsequently a fall of the USDN.
The CEO of FTX and the founder of Alameda Research, Sam Bankman-Fried called Alexander Ivanov's claims "obv bullsh*t conspiracy theory."
What is the Waves Platform? It is a blockchain network with an LPoS consensus mechanism, created in 2016 by Russian developer Alexander Ivanov. The platform is used to issue tokens and conduct crowdfunding campaigns.