​Solana developers announce the Google Cloud integration
Cloud service tools will simplify data transfer on the blockchain
17.07.2023 - 10:00
161
3 min
0
What's new? Solana developers have started using Google Cloud tools to simplify data transfer on the blockchain. According to Dan Albert, executive director of Solana Foundation, a non-profit organization, specialists have integrated BigQuery cloud storage and BigTable high-performance database into the network. In addition, Google Cloud has been Solana's validator since November 2022. As of July 17, 10:00 UTC, the native token SOL is trading at $27,35 on Binance, having lost 2,45% overnight, while adding 32,5% per week (CoinGecko's data).
Solana works with Google Cloud to enable high-performance use cases with efficiency.Dan Albert from the @SolanaFndn talks about simplifying blockchain data with tools like #BigQuery and BigTable and how they enable developers to move and build faster ↓ pic.twitter.com/dg3euQ7E6E — Google Cloud (@googlecloud) July 16, 2023
Google Cloud and blockchains. In early May 2022, Google began building its own Web 3.0 development team for the cloud service. In September, projects based on the BNB Chain blockchain gained access to the Google Cloud infrastructure. In early October, they were joined by NEAR Protocol, a platform for smart contracts and decentralized applications (DApps).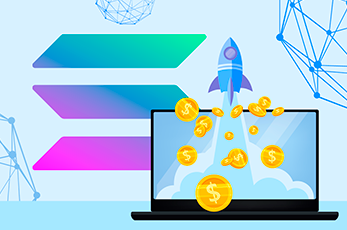 Solana adds ChatGPT plugin to improve user interaction with the network
Initially, it will be focused on end users, with an emphasis on helping them to master the Web 3.0 space
In February this year, Google Cloud became a validator of the Tezos blockchain platform. In April, the cloud service partnered with Polygon Labs.
In July, decentralized crypto exchange (DEX) PancakeSwap implemented Google Cloud tools to maintain 24/7 availability and scaling.