Peter Schiff predicted Ethereum price to fall to $1000
Euro Pacific Capital CEO noted that the chart shows a combination of two patterns that can push the asset down from current levels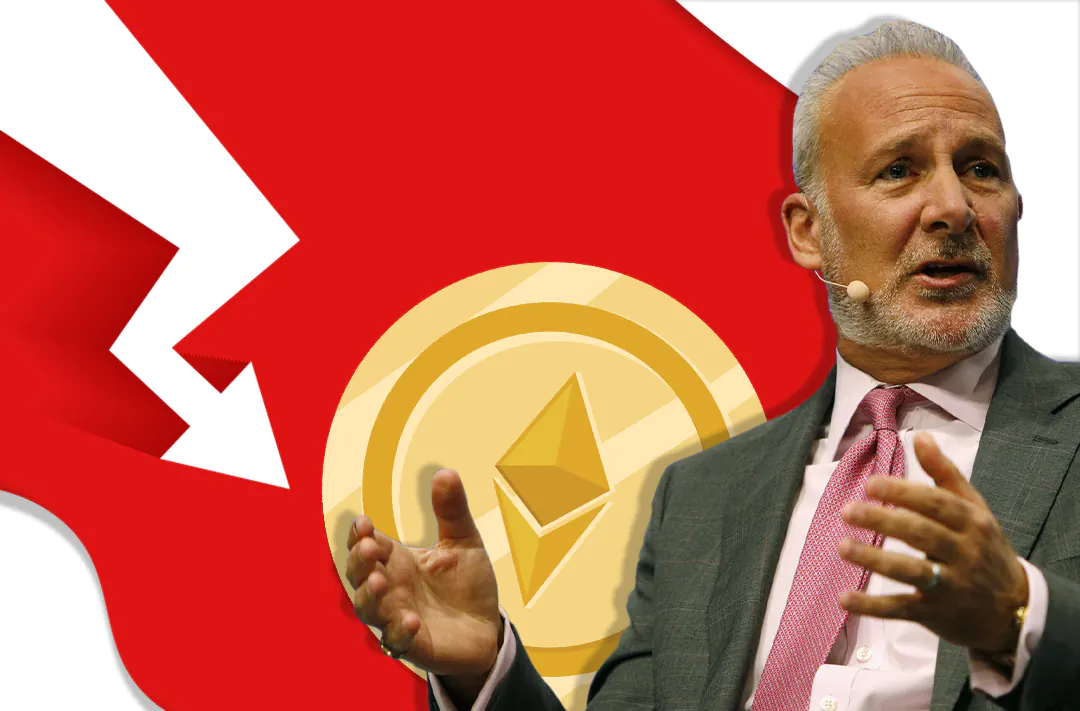 28.05.2022 - 08:05
312
3 min
0
What's new? Euro Pacific Capital CEO and Chairman of investment fund SchiffGold Peter Schiff has shared a chart of the value of Ethereum, suggesting a massive drop in the asset's rate to the May 2021 lows. According to Schiff, the value of ETH is likely to continue to decline and may hit the "lower yellow line," which is located at $1 000 and is a minimum mark. He wrote about this on Twitter.
Support for #Ether at the upper yellow line has clearly been violated and the chart projects a minimum price decline to the lower yellow line. As with #Bitcoin this chart pattern combines an ominous double top with a head and shoulders top on the right side of the double top! pic.twitter.com/fDQaUDCWFz— Peter Schiff (@PeterSchiff) May 27, 2022
What else does Schiff say? He compared the Ethereum chart to the one he had previously posted for bitcoin, stating that it features an "ominous combination" for the first cryptocurrency on it. Similarly, here he pointed to "a double top" pattern that appears in conjunction with a "head and shoulders" pattern. Schiff noted that the chart shows a combination of patterns that can push the asset down significantly from its current level to the $1 000 level. Ethereum last traded at this price point in early May 2021.
As of May 28, 10:00 Moscow time, ETH is trading at $1 765, according to Binance.
What is known about Euro Pacific Capital? The company was founded in 1980 and is headquartered in Westport, Connecticut. It is a registered broker-dealer specializing in foreign securities markets. Euro Pacific Asset Management, founded in 2009, has $1,2 billion in assets under management.
What events happened before? On May 8, Peter Schiff suggested that the price of bitcoin could fall below $10 000 if the rate continues to decline past the $30 000 mark.
On May 24, IntoTheBlock CEO Jesus Rodriguez noted an influx of Ethereum to cryptocurrency exchanges. At the same time, he reported a more than 25% increase in the assets of large BTC investors over the past 30 days and a massive withdrawal of funds from exchanges to custody accounts.
On May 24, the average fee per transaction on the Ethereum network was $2,54, this is the lowest since July 2021. Analytics firm Santiment noted that "historically, ETH prices rise after average transactions dip below $5."
In late April, crypto analyst Benjamin Cowen said that the price of bitcoin could reach a lower low. In this regard, he spoke about the high risk of investing in altcoins. The analyst stressed that bitcoin dominance (the ratio between the market value of the first cryptocurrency and the rest of the cryptocurrency markets) is now at the same level as it was in 2018 when there was a massive collapse of the crypto market.
For more on the negative predictions for the ВТС price movement, see GetBlock Magazine's article.