​SEC chair congratulates the community on the 14th anniversary of the bitcoin concept
Gary Gensler noted that the publication of the BTC White Paper led to innovation and investment in digital assets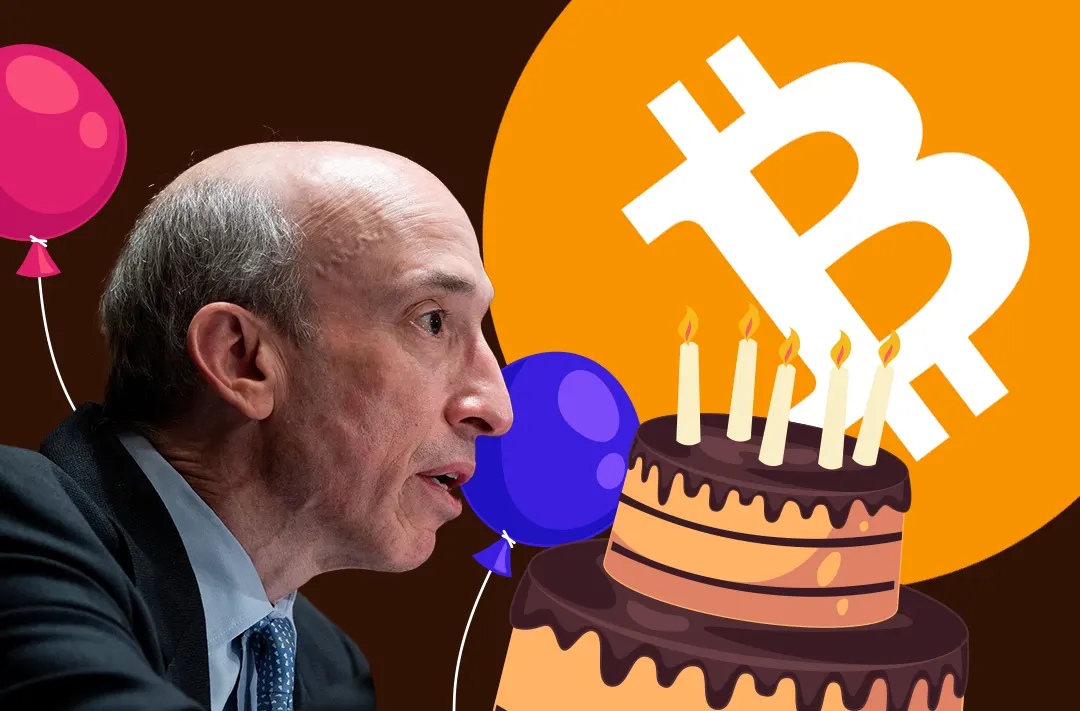 01.11.2022 - 10:30
92
4 min
0
What's new? Gary Gensler, Chairman of the US Securities and Exchange Commission (SEC), has congratulated the cryptocurrency community on the 14th anniversary of the bitcoin White Paper published by Satoshi Nakamoto. He noted that the publication of the first cryptocurrency concept led to innovation and investment in digital assets. Gensler called for making sure that the industry celebrates its next anniversary and that investors are properly protected. His tweet sparked a mixed reaction among social media users.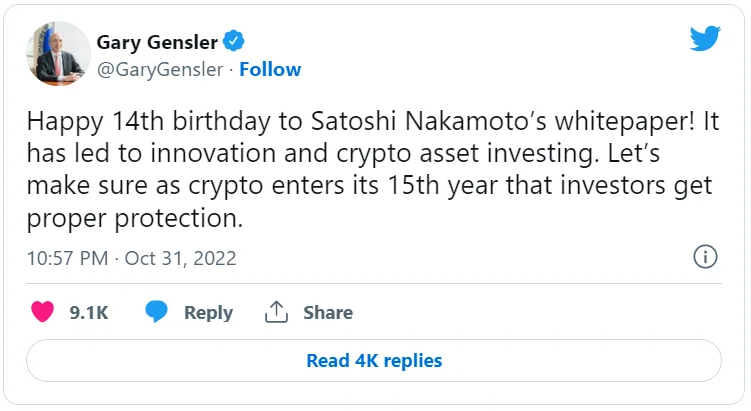 For the unusual facts about the first cryptocurrency, GetBlock Magazine's article.
Twitter user reactions. John Deaton, the head of CryptoLaw and lawyer, responded to Gensler's tweet as follows:
"Quit acting like you wouldn't hand Satoshi a subpoena if you could."
Quit acting like you wouldn't hand Satoshi a subpoena if you could.— John E Deaton (220K Followers Beware Imposters) (@JohnEDeaton1) October 31, 2022
Some users commented on Gensler's tweet with an excerpt from an interview with Tesla and SpaceX CEO and new Twitter owner and cryptocurrency advocate Elon Musk, in which he states that he has no respect for the SEC.
Some users thanked the official for acknowledging the seminal work of Satoshi Nakamoto. Others argued that the SEC chair does not think about the interests of the community and urged him to clarify the regulation of the cryptocurrency sector.
Previously, Gensler repeatedly spoke in favor of imposing stricter regulation on the industry. Back in March, a bipartisan group of congressmen called on the SEC to stop pressuring crypto companies, pointing to unwarranted investigations. Such investigations were initiated against cryptocurrencies ETH and BNB, Circle (the issuer of the USDC stablecoin), Coinbase and Binance.US exchanges, and later all trading platforms that operate in the United States.
In May, Gensler said that most cryptocurrencies fall under the definition of securities and should be regulated by his agency and called for mandatory registration of crypto exchanges. In October, he pointed to the increasing centralization of the crypto market and noted that cryptocurrencies undermine "the competitiveness of our equity markets or fixed income markets that are regulated."