3AC's liquidation and first DFA deal in Russia. Main news of the crypto industry
Top industry news and in-depth analysis of digital assets in GetBlock Magazine's weekly review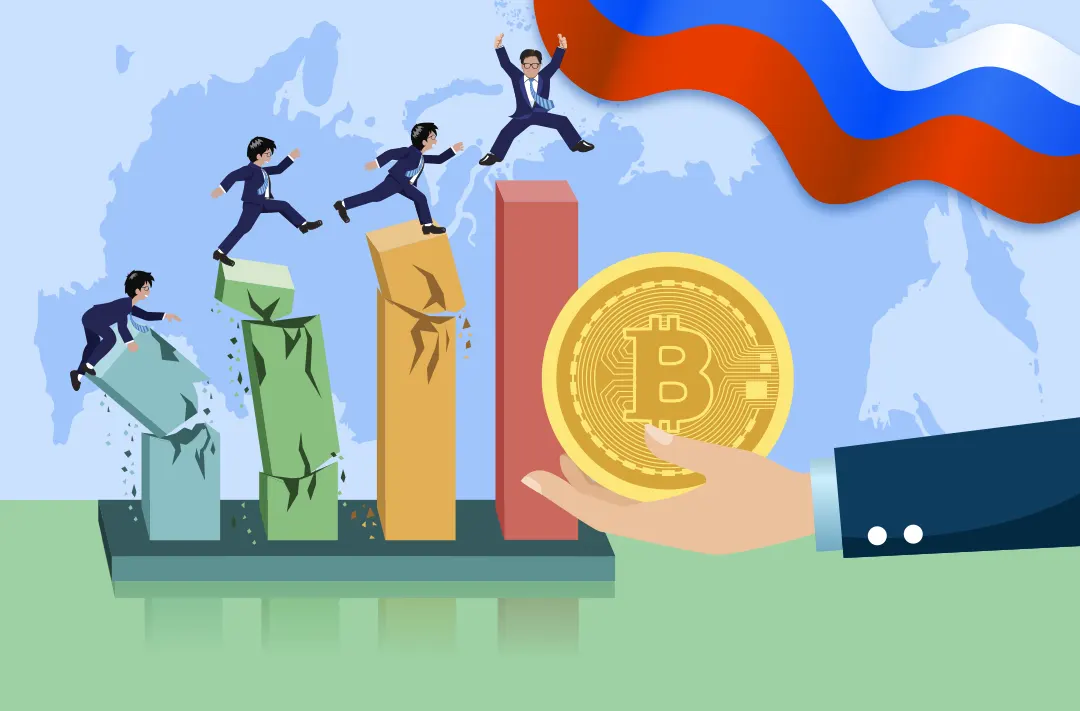 Bitcoin exchange rate has declined by 6,85% over the past seven days. The highest values were reached by the asset on June 26, when 1 BTC was trading at $21 773, the lowest values were registered on June 30 — $18 743 per one coin. As of July 1, 9:40 UTC, BTC is trading at $19 463 (according to Binance).
The value of the second most capitalized cryptocurrency, Ethereum, has declined 7,23% in the past seven days to $1066. The rate of the native token of the cryptocurrency exchange Binance (BNB) has fallen by 4,43%, the asset is trading at $222.
The total capitalization of the crypto market decreased from $971 billion to $921 billion during the week, with bitcoin dominating 40%. Ethereum's share is 13,6%.
Crypto winter is in full swing
Analysts at Glassnode said the current bear cycle became the worst in cryptocurrency history. The majority of investors continue to suffer losses due to rising inflation, reduced liquidity and high leverage. On June 20, realized losses of BTC holders reached an all-time high (ATH) of $7,3 billion.
The number of bitcoin millionaires decreased by more than 75% since November 2021. As of June 30, only 26 284 addresses contained more than $1 million in assets, according to Cointelegraph. On November 12, 2021 — after the first cryptocurrency hit its all-time high (ATH) of $69 044 — the number of millionaire wallets was 108,886.
The head of cryptocurrency exchange FTX Sam Bankman-Fried said that some platforms for trading digital assets would not survive the crypto winter. According to him, "there are some third-tier exchanges that are already secretly insolvent." The billionaire also spoke about the exchange's loans to BlockFi and Voyager Digital, which were suffering losses as a result of the bankruptcy of hedge fund Three Arrows Capital (3AC). Bankman-Fried stressed that there is no guarantee that these investments will pay off, but he is "willing to do a somewhat bad deal here, if that's what it takes to sort of stabilize things and protect customers."
ASIC miner prices fell to their lowest value since January 2021, Arcane Research analyst Jaran Mellerud reported. He believes that the downward trend in prices is likely to continue in the near future due to the reduction of profits from cryptocurrency mining. In addition, large mining companies that bought equipment on debt and are unable to repay it due to low profitability will be forced to sell rigs, which will collapse prices even further, the expert believes.
Russia is on board
On June 28 the Russian State Duma in the second and third readings passed a bill on the taxation of transactions with digital financial assets (DFA). According to the document, operations on DFA sales will be subject to VAT (Value Added Tax), and introduction of personal income tax and corporate income tax is foreseen for the income from their sale.
VAT will be levied on services of digital asset issuance and exchange operators. By February 1, 2023, system operators must provide the tax service with information on transactions with users made from the time the law entered into force until December 31, 2022.
For Russian organizations owning digital rights, the tax on income will be 13%, for foreign companies — 15%. In this case, the tax base for transactions with securities that do not circulate on the organized market can be reduced by the amount of the loss on transactions with DFAs.
On June 28, the first operations on the issuance and placement of digital financial assets (DFAs) secured by cash claims took place in Russia. The receivables pool was tokenized on the platform of Lighthouse, an information system operator, the issue was bought by VTB Factoring.
The Central Bank said that cryptocurrency mining in Russia can be legalized only if the implementation of miners' proceeds in the form of digital assets takes place outside of Russia.
New bitcoin purchases
MicroStrategy bought 480 bitcoins at a price of $20 817 for a total of about $10 million. In total, the organization has 129 699 BTCs on its balance sheet, purchased for a little less than $4 billion (at an average price of $30 664).
El Salvador bought 80 BTC at a price of $19 000 for a total of $1,52 million. This was announced by the country's president Nayib Bukele. He said that bitcoin is the future and thanked "for selling cheap."
3AC no longer exists
A court in the British Virgin Islands ordered the liquidation of Singapore-based cryptocurrency hedge fund Three Arrows Capital (3AC). 3AC's partners from consulting firm Teneo Restructuring were brought in to handle the insolvency case.
The Monetary Authority of Singapore (MAS) reprimanded 3AC for providing false information and exceeding the maximum allowed amount of assets under management (AUM). The fund exceeded the AUM threshold of S$250 million (about $180 million) twice in 2020-2021. 3AC also failed to properly notify the regulator of changes in management and equity capital.
To learn more about the development of the situation around Three Arrows Capital and to read experts' opinions on the consequences of closing the fund's positions, see GetBlock Magazine's editorial.